Repositioning Cruises Alaska
See here Spring and Fall Alaska repositioning cruises 2015 specials of the best Alaskan cruise ships. Alaska repositioning cruise deals are always on sale as low-season discounted specials. Relocation cruises to and from Alaska are offered each year on late Spring and early Fall sailings to and from this popular vacation travel destination.
Alaska cruise ships repositioning times are the perfect "budget travel season" to find most cheap deals with affordable luxury and truly very cheap "big ship" rates. In Spring and Fall all the big and more or less small ships in Alaska sail of reposition (transition) cruises to other regions with worm climates during the Winter months.
Repositioning cruises to and from Alaska – when and why?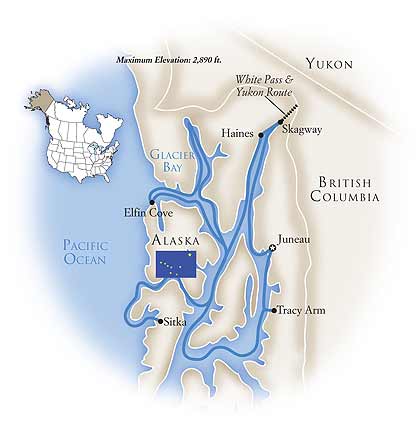 season and destination
Fall repositioning cruises Alaska 2015 (in the months of September and rarely in early October). These are all relocation cruises from Alaska to Hawaii and Australia, Alaska to California ports (Los Angeles, San Francisco, San Diego) and Alaska to Florida ports (Maimi, Fort Lauderdale, Tampa), and rarely to New Orleans LA or Galveston TX passing through Panama Canal. Sometimes are also offered cruises from Alaska to Asia and South America with some of the longest possible itineraries on ships sailing in Alaska.
Spring repositioning cruises Alaska 2015 (sailings to Alaska operated in April and early May). These are cruises to Alaska, basically with the reverse itineraries with relocation cruises from Australia to Hawaii and Alaska, from Florida to California and Alaska (with Panama Canal) and from South America and Asia to Alaska with Pacific and Transpacific itineraries.
departure port
Vancouver repositioning cruises to and from Vancouver
Seattle repositioning cruises from Seattle to Vancouver (during Fall), and the reverse itineraries in Spring to Seattle from Vancouver.
Don't forget to ask your travel agent about any available discounted "flight and cruise" deals to or from Alaska. Low-season Alaska travel deals also include the group of discounted land tours packages in the "ships relocation" season. Early Spring and late Fall are the best times of year to enjoy a low budget Alaskan vacation – hugely discounted rates on hotels, tours, transfers, all-inclusive offers – everything there is so cheap! You can start your trip in , say, Europe or Asia, or Australia. After the exotic experiences there you'll continue your almost "Around The World Tour" with the most unique of all vacation regions of the world – contemplating the magic of Alaska!
Repositioning cruises to/from Alaska 2015 Spring-Fall ships relocation
This is the list of all Alaskan cruise ships repositioning to and from Alaska for the 2015 season (departure dates). Follow line-links for itinerary details and prices comparison.
Alaskan cruise lines / ships
Spring 2015
Fall 2015
HAL Holland America Alaska ships
ms Amsterdam
May 10
-
ms Oosterdam
Apr 19
-
ms Statendam
-
-
ms Volendam
Apr 27
-
ms Westerdam
Apr 11
-
ms Zaandam
-
-
ms Zuiderdam
-
-
NCL Norwegian Cruise Line Alaska ships
Norwegian Jewel
-
Sept 19 and 29
Norwegian Pearl
Apr 16 and May 7
Sept 27 and 28
Norwegian Sun
Apr 19
Sept 28
Princess Cruises Alaska ships
Coral Princess
Apr 12 and 27
Sept 16
Crown Princess
Apr 25
Sept 19 and 20
Golden Princess
May 2 and 9
-
Grand Princess
Mar 19
Sept 12
Island Princess
-
-
Pacific Princess
May 15
Sept 7
Ruby Princess
Apr 26 and 29
Sept 13 and 14
Sapphire Princess
-
-
Star Princess
May 14
Nov 8
Disney / Carnival / Royal Caribbean / Celebrity Cruises ships to Alaska
Carnival Miracle
-
-
Celebrity Infinity
May 26
Aug 23
Celebrity Century
-
-
Celebrity Millennium
Apr 26
-
Celebrity Solstice
Apr 20 and May 1
Sep 11 and 22
Disney Wonder
-
-
Jewel Of The Seas
May 16 and 22
Sept 11 and 18
Radiance Of The Seas
May 6
Sept 11
Rhapsody Of The Sea
-
-
Alaska repositioning cruises are the budget traveler's dream. Cheap sailings, cheap flights, cheap hotels. All is "low-season cheap" travel deals and lousy weather in Alaska when the ship relocation happens. It's there, it's every year, it's always very cheap. So pack your "best vacation ever" mood, book one of the alluring relocation cruise ships and go see the most pristine of all vacation travel destinations of the world! Best of luck with prices and availability!