Cruise ship industry overview shows that the cruise market provides jobs for many millions people around the world. This unique segment of the travel industry offers the best business opportunities in the fastest growing travel vacation segment of all times. Current cruise industry statistics show this vacation type has achieved more than 2,100% growth since 1970, with more and more cruise passengers becoming life long loyal customers of the major brand lines and companies! Cruise line industry trends are for a fierce competition, most affordable prices, bigger than ever demand (and supply), best quality product and service. The sheer number of operational cruise ships worldwide also explains the growing number of repositioning cruises offered seasonally when virtually all of the major lines relocate ships changing the vessel's Summer-Winter regions of operation.
The cruise line industry growth is reflected mainly in expanding passenger capacity. Statistical data shows that nearly 40 new cruise ships were built in the 80s, 80 debuted during the 90s, and more than 100 (majority of them very big – to absolutely huge!) have been introduced since 2000.
Cruise Ship Industry
The strong cruise industry growth fuels continuing evolution of "ship hotel" vacation experiences. Over the years, lines and operators have expanded their itineraries and now include convenient embarkation ports and diverse ports of call. They also introduce innovative onboard facilities and amenities that rival most of the land-based options. The list of unique and most popular among those includes:
multiple themed restaurants
multi-room multi-level suites and villas
cell phone access and Wi-Fi zones
bowling alleys, ice-skating rinks, rock-climbing walls, surfing pools, bungee-trampolines
huge health club facilities and expansive spas
planetarium (QM2)
huge LED screens for open air movies
golf simulators
Aqua Parks with multiple waterslides
demo kitchens
self-leveling (gyro) pool tables
and so many more.
Considering the industry's product, cruise ship vacations offer a huge variety of exciting destinations and onboard facilities, activities, amenities and services exceeding the traveler's expectations. The photo below (in a funny way, but still) perfectly represents the "ship hotel" vacation experience provided by the cruising industry.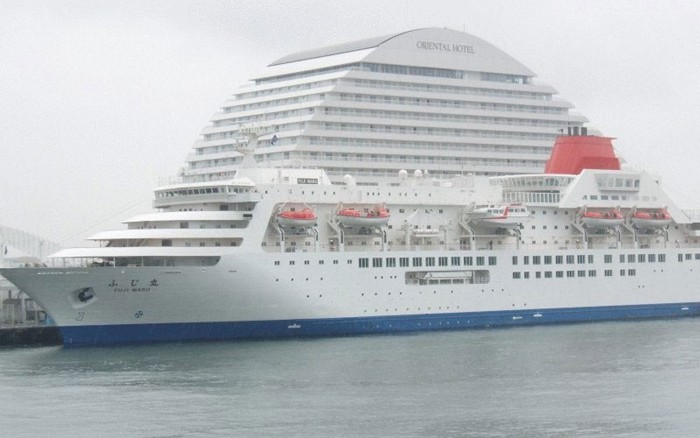 The commitment of the industry to add new capacity is based on the tremendous growth potential of cruising travel. And since the current statistics shows that only 20% of the US citizens have ever taken a cruise, there is an enormous untapped market to conquer.
UK cruise line industry facts
According to CLIA UK statistical data:
Cruises account for 1 in 8 of all UK vacation package deals.
Of all UK cruise passengers in 2012, 54% booked 2 or more deals.
The number of UK passengers booking top-luxury cruise deals from 19,700 in 2008 has increased to 28,450 in 2012.
In 2013, the total number of UK cruise passengers was 1,7 million, of which 36% first-timers, avrg age was 56.
There were 807,000 cruise departures from UK in 2013, 894,000 fly-cruise deals from UK, the industry's value to the economy of Great Britain was £2.5 billion, with ~66,000 employees (ships, lines, ports, agents).
The UK cruise travel market provides ~70,000 jobs, and is currently the biggest in Europe. It contributes ~2,5 billion pounds to the UK's economy. It created 4000+ new jobs.
North American cruise line industry facts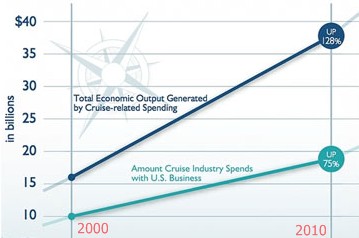 CLIA 2010 statistics released by the North American Cruise Industry show that 329,943 cruise-related jobs were generated, with a US15,2 billion wage impact. Over the past decade, the cruise industry has outperformed the US economy (the travel and tourism sector in particular). Spending with US businesses by the industry increased 75% (2000-2010), reaching US18 billion. Over this period, total economic output generated by cruise-related spending in the US increased by 128% – which in billion of USD is from $16,6bn (2000) to $37,9bn (2010).
Cruise Industry Overview
Cruise industry is among the most exciting and fast-growing categories in the leisure market. Cruise ship industry has had average passenger growth rate 7.2% per year since 1990.
This type travel vacation industry is pretty young. For 1980-2009 period, over 176 million travelers have taken deep-water cruises (duration 2-days or longer). Of this number, nearly 70% have been generated for the last 10 years, and 40% of the total passengers' number have been generated for the last 5 years alone.
Cruise industry market has strong potential – North Americans who intent to set sail over the next 3 years are over 50 million. The industry's products are incredibly diversified and offer something "cool" for everyone. They deliver unprecedented customer satisfaction as vacation experience exceeds expectations consistently on a wide range of vacation travel attributes.
During the past ten years, cruise industry has responded to the extensive consumer research which has guided addition of brand-new destinations and themes, original ship design concepts, creative on-board and on-shore activities, to reflect the changing patterns of today's market.
Cruising is important for sampling destinations to which travelers may return. Over 80% of passengers think that a ship cruise is a good way to sample a destination they may want to visit again on land-based vacation. 40% of cruisers state they had returned to vacation at destinations first visited during a cruise.
Cruise line organizations
FCCA – "Florida-Caribbean Cruise Association" (since 1972) is a 15 member lines not-for-profit organization with more than 100 cruise ships in operation in the regions of Florida, the Caribbean and Latin America. FCCA's mission is to be a forum for major discussions on issues, such as cruising industry's development in general, also on cruise ports, shore tours and excursions operations, passenger safety and security, and other issues. FCCA works in partnerships with various destinations, but also with governments, cruise ports, private companies and public organizations to maximize cruise spending, and to enhance the vacation travel destination experience, as well as the number of returning cruise passengers.
CLIA (Cruise Lines International Association) is among the travel industry associations with largest influence – with 26 member lines. Today, it has nearly 16,000 travel agencies with a total of 35,000 individual agent members. It's the largest in terms of member representation of North American travel agencies. CLIA as organisation represents cruise lines and agencies based in North-South America, Europe, Asia, Australasia. CLIA is also training travel agents.
Cruise industry works in close relationship with travel agency community. The majority of cruisers use travel agent's services to book vacations. The most productive agencies are the ones that place premium on personnel training. "Certified Cruise Counsellor" program is the "Gold Standard" in CLIA training – and the best available resource for vacation planning.
Cruise Industry Trends
Cruise ship industry is constantly improving its popular "cheap and fun vacation deals" image, but also its lobbying effectiveness. Huge investments have been made (and the trend continues) by the major cruise companies to improve their ships' waste-disposal systems, fuel efficiency, back-up power systems, propulsion, and safety in general.
And all the investments are already paying off – big time. The whole cruising travel sector is constantly increasing its popularity and wins more and more supporters. And the people's general opinion is this is a great vacation travel option that outperforms many land-based vacation deals, including the deals on all-inclusive resorts and hotels.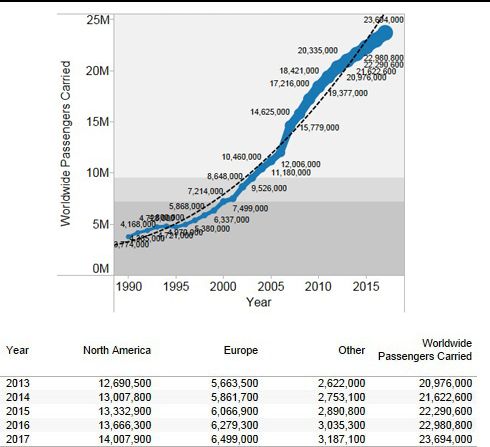 Main cruise industry trends for 2014 are:
Improved ship technology (safety and back-up systems), improved onboard connectivity (Wi-Fi access shipwide, lower rates, free of charge cell phone usage on the ship only)
First-time cruiser market growth
Greater demand for luxury cruise deals with all-inclusive pricing
Increased multi-generational and family travel
More active (fun packed) vacations with more shore excursions and tours choices.
More and more travelers consider not the ports of call, but the cruise ship itself as the paramount "best fun" destination.
Top Luxury Cruise Yachts
The demand for the superyachts product (smaller-size top luxury cruise ships with all-inclusive deals) is also increasing. Major builders of those are the Italian Fincantieri (in partnership with Benetti), while the leading ship management company is V Ships (partnership with Fraser Yachts). The number of year-round chartered small luxury cruise ships is increasing too. The list of leading luxury cruise lines includes the names of Seabourn, Seadream, Silversea, Windstar.
Cruise Industry Statistics
Six new big cruise ships joined the market in 2014 – the gain in capacity of passengers was 17,410, which includes (in brackets – lower berths capacity): Royal Caribbean Quantum of the Seas (4100 pax), NCL Norwegian Getaway (4000 pax), Regal Princess (3600 pax), Costa Diadema (3000 pax) and TUI Mein Schiff 3 (2500 pax).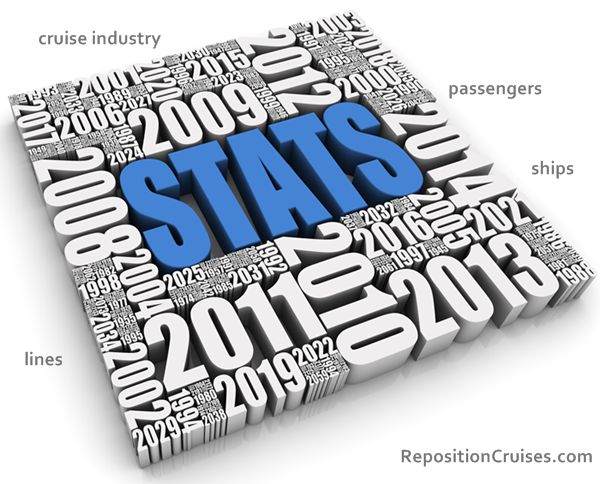 The 2012 new ships list (featuring the "biggest" names of Carnival Breeze, Disney Fantasy, MSC Divina) added another 10,000 berths to the industry's pax capacity – and another USD 2,3 billion in annual revenue.
By the end of 2014, the expected number of passengers is 22,3 million (worldwide).
By the end of 2016, 17 more ships will add more than 41,000 (over 9%) to passenger capacity, this way generating in annual revenue US$3.4 billion more for cruise industry.
Total number of 2014 cruise ships is 410 (including river cruise boats), total number of berths is 467,629. More than 300 of those are sea-going, with capacity to accommodate a total of over 300,000 passengers per day.
Total investments made 2013-2014 US$7,2 billion, with 29 new cruise ships in 2014 (capacity 34,000), another 20 new ships will join CLIA fleet in 2015-2018 (capacity 52,000).
Direct spendings by crew and passengers at all worldwide cruise ports are estimated at $19 billion and the average spending per passenger per day is expected to be $215, with $163 ticket price and $52 onboard spending.
Top 3 cruise companies for 2014 are Carnival Corporation, Royal Caribbean Cruises, and NCL Norwegian Cruise Line – they account for nearly 80% of worldwide passengers' share and 72% of worldwide revenues' share.
The top two cruise ports are: for embarkation – Miami, FL; as port destination – Nassau, Bahamas. Half of all passengers on major lines begin voyage in one of the following three Florida ports: Port Canaveral, Fort Lauderdale and Miami.NYC New York cruise port (Manhattan and Brooklyn terminals) statistics show:

42% increase in passengers – 2009 (446k), 2010 (583k), 2011 (633k)
58% increase in economic impact – 2009 ($151m), 2010 ($230m), 2011 ($239m)
48% increase in ship calls – 2009 (181), 2010 (241), 2011 (267)
60% increase in spending – 2009 ($94m), 2010 ($145m), 2011 ($150m)
top 3 NYC port spending categories are – accommodations ($62m), food/drinks ($21,5m) and tours/excursions ($13,6m)
passenger demographics – 14% (NYC), 14% (international), 49% (other 50 states), 23% (NY, NJ, CT).

Almost 90% of total cruise tickets' number are sold by travel agents.
Cruise line industry worth (total, 2013 statistics)
$36,2 bn
Cruise industry annual revenue for the US economy
$37,85 bn
Cruise industry jobs generated in the US (wages)
356311 ($17,4 bn)
Cruise industry annual growth rate since 1980 (avrg)
7,4%
Number of new cruise ships by year

2000
2001
2002
2003
2004
2005
2006
2007
2008
2009
2010
2011
2012
2013
2014
2015-2018

12
16
18
18
17
12
12
16
11
14
14
11
8
7
29
20

New cruise ships on order / under construction (as of 2014)
26
Budget spent on building new ships
$15bn
Avrg ship capacity utilization
104%
Avrg cruise length (in days)
7,2
North American cruise departure ports (USA ports)
30 (21)
Total number of cruise ports
2000
Number of sunk cruise ships 1979-2013
55.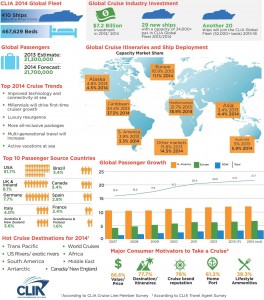 In 2013, a record of 20.9 million people have cruised worldwide:
17.600 million of them departing from North American cruise ports
11.680 million of them live in Canada and the US
5.8 million departures were from other regions
By the 2013's end, the total number of ocean cruise ships was 283, total passenger capacity was 438,595.
In 2013, the industry's growth of 2012 continued (2.5% increase) – with 11 new cruise ships added to the market's immense fleet of pleasure marine vessels.
The ship orders 2013-2016 list has 26 new cruise ships (14 ocean-going and 12 river boats, again FCCA/CLIA cruise lines) with a total of 48,000 berths. The amount of capital invested in these ship projects is over US$9.5 billion.
The 2013 over 2012 increase was 2,5%, but keep in mind, this is with the new build ships' added passenger capacity included in the statistics.
The Caribbean continued to rank as most popular destination, featuring 37,3% of all 2013 itineraries, and leading share of cruise ship industry capacity. Next by popularity were listed Mediterranean (19,9%), Europe (Med excluded 9,8%), Asia (3,6%), Australialasia (4,1%), Alaska (5,4%), South America (3,4%).
River Cruise Industry
River cruising industry growth is impressive as both number of passengers and yields, especially on the market in Germany – the unquestioned river vacation travel market's leader. River cruise ticket sales are growing faster compared to ocean-going ship vacations. Passenger capacity on the main European rivers is also increasing, new operators emerge, the old one (world's largest river cruise lines) renovate regularly or expand their fleets by building larger, new-generation boats.
More than half a million passengers (80% of them European; and 20% from North America) enjoy European river cruising vacations annually. On the China's Yangtse River, the number of international passengers is nearly 150,000, with new operators and new and bigger river ships being built each year. The list of the world's biggest river cruise lines includes AmaWaterways, Avalon Waterways, Viking, Uniworld, Scenic, A-Rosa, Luftner, Grand Circle Travel.
In conclusion, cruise ship industry statistics and hard facts point out a most lucrative business well worthy of huge investments in vessels, but also in port facilities, crew and staff training, new onboard programming, advertising, new "fun vac" options. Cruising is the best value for money vacation deal of our times – it's cheap, it's fun, it's everywhere – enjoy it!