See here the list of all of Suez Canal transit cruises 2018 and 2019 ships schedule, lines and transition itineraries (ports of call). Most Suez cruises offer cheap deals on one-way transit itineraries between Europe (Mediterranean) and Asia (Dubai, India, Singapore or even China). Some transits are part of World Cruises, transiting the Suez Canal.
Repositioning cruise ships through Suez Canal provide a range from affordable luxury to really cheap big-sized ship cruise deals. Not to forget this is an unique opportunity to enjoy cruising to exotic destinations at some of the market's best rates.
Suez Canal transition cruises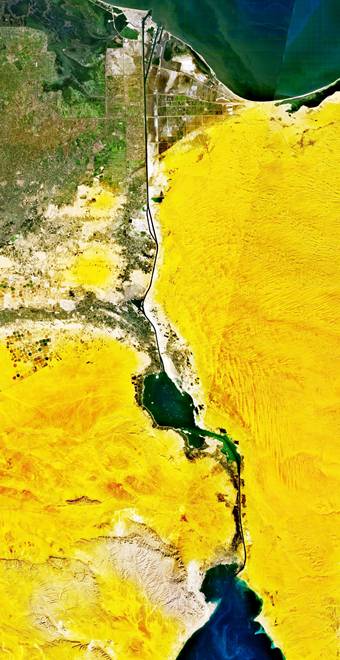 Representing a very small segment of all cruise ships repositioning deals, Suez cruises may also be segments of Around the World cruises. These special voyages are usually starting in the beginning of each year by some of the world's major brands, and done mostly by luxury cruise lines ships.
Passing through the Suez Canal is an unique experience related not only to cruising, but also to the Africa-Asia region itself. The Egypt Nile cruise deals may be booked separately (they are optional) offering the not necessarily cheap, but always so much exotic Alexandria and Cairo tours and excursions.
The Egyptian resorts on the Red Sea offer the unique chance to sample so many things in this ancient region. You can perfectly combine visiting the Pharaoh's mysterious kingdom, enjoying the beautiful shores, the amazing coral reef and marine life with luxury ship amenities and stylish experiences on board.
The diving holidays in Red Sea are also very popular though optional Red Sea vacation deal. Know that snorkeling, scuba diving, wind surfing, sailing, glass-bottom boats, and even submarine trips are at their very best in the Suez Canal region. And, of course, the numerous archaeological sites, museums, the desert safaris. Not to forget the great night-life in major coastal towns.
The "Egyptian Riviera" – Red Sea resorts and diving tours
This information could be of some help to you only if you consider the option of staying in some of the great resorts in the Red Sea region. These are the main destination points for touring the Egypt Coast at Red Sea:
from Cairo (Ain EL- Soukhna)
from Safaga (Hurghada, El Gouna, Sahl Hashish, Giftun Island), Marsa Alam (has an air-port).
Best Red Sea diving tours are operated in the following areas:
the Northeastern Coast (El Gouna, Hurghada, Safaga)
the Sinai Peninsular (Sharm el Sheik, Dahab, Nuweiba)
the Southeastern Coast (El Quseir, Marsa Alam, Hamata).
Best for Red Sea diving trips is the coastal area between El Gouna and Safaga. The reason is this area perfectly combines the region's amazing reefs and wrecks with the convenient proximity to the Egypt's most famous historical sites for touring – Luxor and Cairo.
Suez Canal facts
Suez Canal is artificial waterway in Egypt, which is sea-level and connects Mediterranean and Red Seas. In November 1869 Suez Canal was available for sailing after ten-year construction works. The Canal allows vessel transport between Asia and Europe without around Africa navigation.
Port Said is northern terminus; Port Tawfiq is southern terminus at the Suez city; Ismailia lies on west bank of Suez Canal, 3 km from half-way point.
After first built, the canal was long 164 km, 8 m deep. After a great deal of enlargements, as of 2010, it is long 193.30 km, 24 m deep, 205 m wide.
Suez Canal consists of a northern access channel (22 km), the canal itself (162.25 km), and a southern access channel (9 km).
The Canal acts for single lane which has passing places in Great Bitter Lake and "Ballah By-Pass". There are no locks and seawater freely flows through canal. Generally, north of Bitter Lakes the canal flows south in summer and north in winter. South of lakes the current changes with tide at Suez.
The canal is maintained and owned by SCA (Suez Canal Authority of Egypt) and is under international treaty. It may be used in peace and war times, by every vessel of war or of commercial ships without flag distinction. Learn more at Wikipedia.
Suez Canal cargo ship transits
On February 24, 2016, a new Suez Canal shipping lane was inaugurated by the canal's authority. The new line is parallel to Port Said and effectively lowers canal transition times. It allows vessels to sail in both directions and increases the containership traffic.
In 2015, the canal was expanded at the cost of USD 8,5 billion. However, the low crude oil price now allows cargo ships to avoid paying the costly Suez Canal transition prices (USD 465,000 on average) by taking the long way around South Africa instead.
Between October 2015 and February 2016, a total of 115 westbound cargo vessels loaded with goods from Asia to Northern Europe or USA took the around Africa route instead of transiting the canal. Statistics show that the South African route saves USD 235,000 on average per voyage. The Suez Canal Authority reported for 2015 an increased number of passing ships (17483 vessels, or 2% increase). The report also says a decreased number of bulk cargo (5,7%) and container cargo ships (3,1%). To compete with the falling oil prices, Suez Canal would need to cut transition prices by roughly 50%.
The South African shipping route has a big environmental impact. It was calculated that the route's increased fuel consumption results in additional 6800 tons of CO2 on average per voyage.
Cargo ship cruises through Suez Canal, transit routes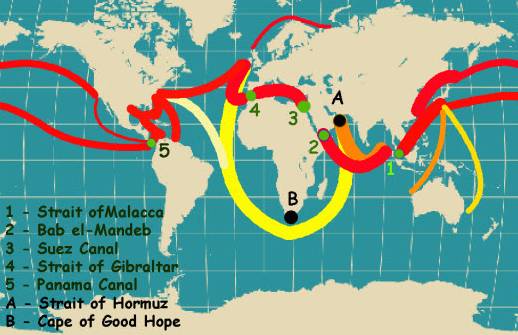 One of the world's largest container ships CMA CGM Marco Polo offers regular Suez Canal transitions on its route between China and the UK/Germany. Itinerary options on cargo (freighter) cruise ship transits through Suez Canal include the following ports:
| | |
| --- | --- |
| 1. cargo cruise from Singapore to Barcelona | visiting Piraeus (for Athens), Naples and Genoa |
| 2. cruise from Malaysia (Tanjung Pelepas port departure) to Trieste, Italy | visiting Port Said, Piraeus, and Rijeka (Croatia) |
| 3. cruise from China (Shanghai port departure) to Hamburg, Germany | visiting in 2 ports in China (Ning-bo, and Yantian) and Felixstowe (UK) |
| 4. cruise from India (Mundra port departure) to Southampton UK | visiting Salalah, Djibouti, Jeddah, Malta, and Tangier. |
Suez Canal cruises from Asia to Europe
Choose a Freighter Cruise from AU$4,600 for 23 days through the Suez Canal. This option includes a voyage by freighter from Asian port to Europe. You can return back to Asia on the same vessels. Note that cabins continuing to Sydney or Melbourne from Europe are booked usually six months in advance.
Felixstowe Freighter Voyage via the Suez from Asia to Europe offers all year round weekly departures via Suez Canal in either direction. The tariff from AU$4,600 pp includes meals and port fees. For booking or inquiries call: 02 8270 4899.
Onboard facilities include open deck area, passenger lift, TV/VCR room, passenger lounge, self-service laundry, indoor pool and sauna, fitness room (with table tennis, exercise bicycle, rowing machine).
Special requirements imposed for yellow fever injection and travel insurance which are compulsory. Passengers have to possess valid passport (at least six months validation).
Suez Canal cruises from Australia to Europe
Choose a Freighter Cruise from AU$5,730pp for 48 days through the Suez Canal. This option includes a voyage by freighter from Australian port to Europe. The Round-trip duration is 91 days for AU$10,180 pp. For each voyage four cabins are available (one single, two double bed, one twin bed) but there are only four cruises per year, so book early. Visit Geno, Italy and Chenai, India with Freighter Expeditions. For booking or enquiries call: 02 8270 4899.
All cabins are carpeted, with air conditioning, small refrigerator, wardrobe, desk, and chair. Facilities include an elevator, small fitness room plus sauna, outside pool, and onboard steward.
Special requirements imposed for yellow fever injection and travel insurance which are compulsory. Passengers have to possess valid passport (at least six months validation). A visa required for Sri Lanka, India, and Egypt. The ship only takes up to 79 years of age. On container ships accepted for carriage are only travelers of good physical and mental health. Container ships don't provide a medical officer or doctor onboard, only basic first aid treatment is available.
Suez Canal cruises 2018-2019 transition schedule
Cruise Ships

cruise lines (links)

Spring 2019 Summer
Fall 2017 Winter
Spring 2018 Summer
Fall 2018 Winter
AIDA Cruises & TUI Cruises (Mein Schiff)
AIDAaura
–
–
Feb 24 – 25day Port Louis to Venice

–

AIDAbella
–
Nov 15 – 13day Venice to Dubai
Mar 20 – 21day Dubai to Palma De Mallorca
Nov 11 – 21day Palma De Mallorca to Dubai
AIDAcara
–

–

Jan 7 – 34day Singapore to Hamburg
–
AIDAstella
–
–
Apr 3 – 23day Abu Dhabi to Palma De Mallorca
–
Mein Schiff 1
–
–
Mar 15 – 15day Dubai to Antalya
–
Mein Schiff 3
2019 Apr 11 – 16day Dubai to Antalya
–
–
Nov 1 – 17day Antalya to Dubai
Mein Schiff 4
2019 Apr 1 – 15day Dubai to Antalya
–

–

Oct 20 – 16day Antalya to Dubai

Mein Schiff 5
–
Nov 5 – 15day Antalya to Dubai
Mar 26 – 15day Dubai to Antalya
–
Celebrity Cruises
Celebrity Constellation
2019 Apr 17 – 15day Abu Dhabi to Rome
Nov 12 – 15-day Rome to Abu Dhabi)
Apr 22 – 15day Abu Dhabi to Rome
Nov 11 – 15day Rome to Abu Dhabi
Costa Cruises
Costa Luminosa
–
–
Mar 21 – 28day Singapore to Venice

–

Costa Mediterranea
2019 Mar 8 – 18day Dubai to Rome/Savona
Nov 24 – 21day Savona to Dubai
Mar 10 – 19day Dubai to Savona
Dec 2 – 19day Savona to Dubai
Costa neoClassica
–
–
Mar 24 – 19day Male, Maldives to Venice
–
Costa neoRiviera
–
–
Mar 3 – 24day Port Louis, Mauritius to Savona)
Nov 9 – 22day Venice to Male
Costa Victoria
–
–
Feb 24 – 21day Singapore to Savona
Sept 30 – 27day Savona to Port Louis
Cunard
Queen Mary 2
2019 Jan 10 – 19day Southampton to Dubai

2019 Mar 25 – 20day Dubai to Southampton

–
Apr 19 – 21day Dubai to Southampton
–
Holland America
Amsterdam
2019 Mar 23 – 26day from Singapore to Barcelona
–
–
–
MSC Cruises
MSC Fantasia

–

–
–
–
MSC Musica
2019 Apr 26 – 24day Durban to Venice
–
–
Oct 14 – 24day Venice to Durban
MSC Sinfonia
–
–
Apr 20 – 24day Durban South Africa to Venice
–
MSC Splendida
–
Dec 6 – 16day Genoa to Dubai
–
–
NCL Norwegian Cruise Lines
Norwegian Star
–
–
–
–
P&O Cruises (UK, Australia)
Arcadia

2019 Mar 29 – 18day Dubai to Southampton

–

Mar 31 – 19day Dubai to Southampton

–
Oceana
2019 Jan 10 – 20day Southampton to Dubai

2019 Mar 22 – 13day Dubai to La Valletta

–
–
–
Princess Cruises
Majestic Princess
–
–
–
–
Pacific Princess
–
–
Mar 13 – 20day Dubai to Venice
–
Sapphire Princess
2019 Mar 21 – 26day from Dubai to Southampton
–
–
Oct 31 – 28day Rome to Singapore
Sea Princess
–
–
Jun 27 – 28day Dubai to Southampton
–
Royal Caribbean
Legend Of The Seas
–
–
–
–
Mariner Of The Seas
–
–
Apr 22 – 15day Dubai to Barcelona
–
Vision Of The Seas
–

–

–
–
Thomson Cruises UK
Thomson Celebration
–
–
–
–
CMV Cruise And Maritime Voyages
Columbus (former Pacific Pearl)
–
–

April 14 – 22day Dubai to London UK

Magellan
–
–
–
–
Fred Olsen
ms Boudicca
–
–
–
Sept 5 – 16day Dover England to Aqaba Jordan)
Phoenix Reisen
Artania
–
Dec 21 – 25day from Marseille France to Colombo, Sri Lanka
–
–
Amadea
–
–
–
Dec 23 – 19day from Villefranche-Nice France to Dubai
Albatros
2019 Apr 22 – 22-day Dubai to Genoa
–
–
–
Viking Cruises
Viking Spirit
–
–
–
Aug 19 – 21day Piraeus (Athens) to Mumbai
You can share/like/rate our Suez Canal cruises review via the social buttons. Follow us on the main social networks for latest updates (more Suez Canal transits dates to be announced soon). Happy vacations, and best luck with the ship relocation deals – to enjoy the magical combination of Egypt, Red Sea and the Mediterranean at more reasonable prices!