By 2026, Carnival Corporation will remain the industry's leader with more than 40% share globally. In 2016, ship cruising industry will boast a global fleet of 315 cruise ships, generating approx USD 35,5 billion revenue worldwide. This includes tickets and onboard sails. For comparison, the same statistics shows USD 33,2 billion for 2015, with around 23,2 million cruise passengers globally.
CLIA projections for 2017 were 25,3 million cruisers globally, or an estimated 4,5% increase over 2016 (24,2 million passengers). The outlook was based on the relationship yearly ship capacity and passenger increases. In 2017, the number of new cruise ships was 26 (ocean, river and expedition, including 2 permanently deployed in China). Several cruise lines made maiden calls in Cuban ports. CLIAA's data for 2015's worldwide spending generated by the industry showed USD 117 billion.
According to CLIA data, in 2015 the number of ocean ship traveling passengers reached the industry's ever highest level – 23,2 million cruisers.Worldwide cruise travel spending in 2015 generated by the industry reached USD 117 billion. This included a total of 956597 full-time employed people who earned USD 38 billion in 2015. The 2016's projection was 939232 employees earning USD 39,3 billion, or total economic impact USD 119,9 billion.
Revised projections for 2016's global passenger capacity are for another record high – 24,2 million passengers (compared to the 22 million in 2015). CLIA's 2015 report also says the highest year-over-year increase is for the Asian market – 24% (or 2 million more passengers). The region of South Pacific (that includes Australia and New Zealand) reported a 14% increase (1,1 million).
In terms of revenue and passenger sourcing, the North American market in 2016 will represent approx 56% (3% drop over 2015), followed by Europe (27%, 2% drop over 2015) and Asia-Pacific Ocean (17%, 5% increase over 2015).
CLIA's projections for 2017 are 25,3 million passengers, or an estimated increase of 4,5% over 2016. The 2017 industry's outlook is based on the ship capacity increase.
According to cruise line market share statistics, Carnival Corporation's cruise companies are at top positions both as passenger and revenue increase. See next the industry's revenue increase 2013-2014 comparison by region, with their corresponding 2015 market shares:
Alaska (2013 +4,8%, 2014 +4,5%) – 2015 market share 4,2% (4,2% in 2014)
Europe (2013 +10,9%, 2014 +11,1%) – 2015 market share 8,5% (9% in 2014)
Caribbean (2013 +34,4%, 2014 +37,3%) – 2015 market share 39,9% (42,2% in 2014)
Mediterranean (2013 +21,7%, 2014 +18,9%) – 2015 market share 17,9% (17,7% in 2014)
Asia (2013 +3,4%, 2014 +4,4%)
Australia/South Pacific (2013 +5%, 2014 +5,9%)
North America (2013 +3,9%, 2014 +3,3%); other markets (2013 +15,8%, 2014 +14,5%)
West Coast USA plus Mexican Riviera – 2015 market share 4,1% (3,5% in 2014)
South America – 2015 market share 2,6% (2,6% in 2014)
Canary Islands – 2015 market share 2,3% (2,3% in 2014).
For comparison, the worldwide cruising market in 2014 was $37,1 billion – a 2,3% increase compared to 2013. 2014's cruise ship industry statistics showed 21,6 million cruise passengers carried worldwide (3% increase). The Asian cruise market growth was 34% (compared to 2012).
Cruise Market Overview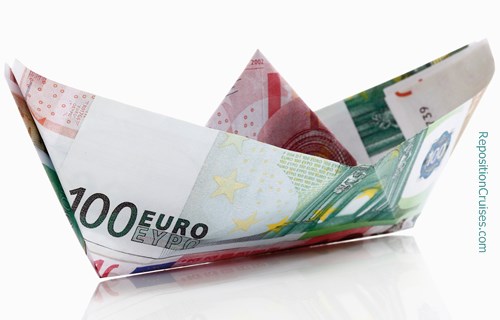 According to CLIA Cruise Line Member Survey statistics, the list of top passenger source countries includes: USA (51,7%), UK (8,1%), Germany (7,7%), Italy (4%), Australia-NZ (3,6%), Brazil (3,4%), Canada (3,4%), Spain (2,8), France (2,4%) and Baltic countries (1,6%).
The top cruise destinations list shows as major market opportunities the regions of Caribbean, Asia, Europe (Germany, UK-Ireland, Mediterranean, Holy Land-Middle East), Australia, European rivers, US rivers, South America, Antarctic, World Cruises, Canada-New England, Africa. For the cruising market related professional studies and reports, you can visit the CLIA's website cruising.org.
Major Cruise Companies
Based on all existing cruise ship orders and corporate brand-line transfers, by 2022, the largest cruise line companies in the world (Carnival Corp, Royal Caribbean, MSC Cruises, NCL Norwegian) will account for 216+ vessels in total. These four major cruise companies should have a combined passenger capacity of 25,7+ million. Their estimated total capacity for 2015 is 18,7 mill passengers, with combined fleet of 180 vessels.
Carnival Corporation's revenue

2014 – USD 15,46 bn
Carnival Corporation brand lines are: AIDA, Carnival, Costa, Cunard, Holland America, P&O (UK and AU brands), Princess, Seabourn.
In 2016, Carnival Corporation's lines are down with 44,3%, mainly due to fleet expansion programs (aggressive shipbuilding of large-capacity liners) by the other major companies- RCI, MSC, NCL.

Royal Caribbean revenue

Royal Caribbean Cruises Ltd (RCCL) worldwide revenue in 2014 was USD 8,07 bn (compared to the USD 7,96 bn in 2013).
RCCL brand lines are Royal Caribbean International, Celebrity, Pullmantur, Azamara and CDF.
RCCL holds 50% stake in TUI Cruises.
Expected number of passengers carried worldwide (by all RCCL brand lines) for 2015 (~7 mill) and expected growth for 2022 (~8 mill).
In 20106, Royal Caribbean will lose 2,6 % of its 2015 market share (24,5%) down to 21,9% – also due to other companies' fleet expansions.
2017 will be the RCI's big year – with fleet capacity increase of 7,5%.

Carnival Cruise Lines worldwide passenger capacity

*Princess Cruises (Carnival Corporation's brand line) had an ~41,000 daily passenger capacity in 2014.
Expected number of passengers carried worldwide (by all Carnival brand lines) for 2015 is ~10 mill. The expected growth for 2022 is ~13 mill.
2019 will be the CCL's big year – with fleet capacity increase of 10,5%.

NCL Norwegian Cruise Lines worldwide passenger capacity growth

The NCL's percentage growth in carried passengers is the most impressive. Between 2015 and 2022, the increase in capacity will be by ~50%.
In 2016, NCLH (the parent company) has global market share 9,1%.
2017 will be the NCL's big year – with fleet capacity increase of 14%.

MSC Cruises

The privately owned MSC cruise company has grown in 

passenger capacity 

by the impressive 800% since 2004. In 2014, this line carried 1

,

67 mill passengers

, with 

generated profit of ~

1

,

5 b

illion Euro

. The forecast for 2015

shows an expected 

growth 

of 10%.

By 2026, MSC will increase its market share from 6,8% (2016) to 12,9% (2026) attributed to the company's aggressive shipbuilding (8 new liners).
2019 will be the MSC's big year – with fleet capacity increase of 19%.
Cruise line market share
The 2015 cruising industry worldwide is estimated at USD 39,6 bill (which is an increase of 6,9% over 2014) with 22,2 mill passengers carried (which is an increase of 3,2% over 2014). The cruise line market share (all brand lines) is as follows:
NOTE: In brackets are shown % total passengers / % revenue increase in US$.
Carnival Corporation brand lines
(total passengers 48,1%; total revenue increase 42,2%)
| | | |
| --- | --- | --- |
| Carnival | 21,3 | 8 |
| Costa Crociere | 7,4 | 6,7 |
| Princess | 7,9 | 8,8 |
| AIDA Kreuzfahrten | 3,7 | 3,4 |
| Holland America | 3 | 4,4 |
| P&O Cruises UK | 1,7 | 3,7 |
| P&O Cruises Australia | 1,2 | 2,3 |
| Iberocruceros | 0,8 | 1,6 |
| Cunard | 0,9 | 2,6 |
| Seabourn | 0,2 | 0,7 |
Royal Caribbean brand lines
(total passengers 23,1%; total revenue increase 22,1%)
| | | |
| --- | --- | --- |
| RCI | 16,7 | 14,2 |
| Pullmantur | 1,6 | 1,2 |
| Azamara | 0,2 | 0,7 |
| Celebrity | 4,2 | 5,7 |
| CDF | 0,5 | 0,4 |
NCL Corporation brand lines
(total passengers 10,4%; total revenue increase 12,4%)
| | | |
| --- | --- | --- |
| NCL | 9,5 | 8,7 |
| Oceania | 0,6 | 2,3 |
| RSSC Regent | 0,3 | 1,5 |
Other cruise lines market share
(in brackets % total passengers / % revenue increase in US$)
| | | |
| --- | --- | --- |
| MSC Crociere | 5,2 | 4,2 |
| Disney | 2,8 | 2,4 |
| Thomson Holidays | 1,3 | 1,8 |
| Hurtigruten | 1,4 | 1,5 |
| Louis / Celestyal | 0,9 | 1,2 |
| Phoenix Reisen | 0,5 | 0,7 |
| Fred Olsen | 0 | 0,1 |
| Saga Holidays | 0,4 | 0,5 |
| Silversea | 0,4 | 1,3 |
| Cruise Maritime | 0,5 | 0,5 |
| Crystal | 0,3 | 1,5 |
| Hapag-Lloyd | 0,3 | 0,4 |
| Ponant | 0,1 | 0,6 |
| Star Clippers | 0,1 | 0,1 |
| Lindblad | 0,1 | 0,2 |
| SeaDream | 0 | 0,2 |
| Star Cruises (Asia) | 1,3 | 1,8 |
| TUI | 1,3 | 1,8 |
| Viking (ocean + river) | 18,4 | 23,3 |
Cruise travel market challenges
Attracting first time travelers is the "deal of all deals" for the world's largest cruise companies. Because they simply cannot fill their old and new ships by stealing customers from rival lines. Statistics on this point out, that if a first-time cruiser books a particular line, she/he will buy again its product in the future. Many first timers even book their next vacation while still on the ship.
The berths number is hugely increasing with many and big-size passenger vessels being built each year. Overcapacity leads to hugely discounted cruise deals as lines try to fill up their ships. Cruise prices go down or tickets become "more inclusive" than ever. Nowadays, cruise line industry invents and introduces new "price inclusive" onboard attractions, and to keep the revenue, lines increase prices on drinks and specialty dining on board.
Air passenger duty has a major impact even on the fly-cruise deals market (discounted flight and cruise packages), especially UK to Caribbean, and USA to Europe (Mediterranean or Baltic). According to CLIA UK data, in 2012, the decrease of UK citizens booking Caribbean fly-cruise deals was 21%.
Still too many vacationers think of cruising vacations as expensive or boring. To battle these negative perceptions, lines generate many and "new age" adds, sponsor movies and TV series, invite pop icons to become godparents of the newest largest ships.
According to CLIA Travel Agent Survey statistics, best motivators for booking a cruise are: Value/Price (86,6%), Itineraries (77,7%), Cruise Line Reputation (76%), Departure Port (61,3%), Amenities (39,3%).
Australian cruise market
In May 2015, the CLIA official report showed the Australian cruising market reaching in 2014 over 1 million passengers (1,003,256 pax) – the world's fastest growing market in one year period. This is the first destination/nation exceeding 4% market penetration in the industry's history.
In numbers, this is an increase of 20,4% Australian passenger (around 170,000 more compared to 2013 statistics. Fun fact is, that the pre-set goal was to hit the 1 mill pax by 2020. Now the new goal for 2020 is 2 mill AU passengers, which will be a staggering 7,6% market share increase. This data suggests an average annual growth rate of 12,5%.
The CLIA report also showed that ~4,2% of the Australia's population took an ocean ship cruise in 2014. In comparison, the North American market (ranked second) had market penetration of 3,4%.
The Australian cruise market is currently the 4th largest globally, with 4,5% of all the world's cruise passengers, and following only North America (54,2% pax), Germany (8% pax) and UK (7,4%).
During the 2014-2015 season, Australians spent on cruises over USD 900 million (compared to the USD 680 million during the previous season). During that tome, visiting Australia cruise ships injected over USD 3,3 billion into the country's economy – an increase of 5,3% compared to season 2013-2014.
Caribbean cruise market
Will cruise ship lines change allegiance from Caribbean to Asian regions? According to cruise trends 2015 data, there will be over 20 million customers booked on Caribbean Sea voyages in 2015.
In 2014, the industry's capacity in the Caribbean region was increased by 13%, with several new big-capacity ships home-ported in the US, and mostly in Florida ports. The Caribbean will always be the most important cruise travel destination for the market of North America. Even the Italian/Mediterranean line MSC Cruises sneds its newest and largest ship MSC Seaside for year-round operations there, with homeport Miami FL. Bottom line is – the Caribbean cruising is here to stay.
Cruise ship companies don't create demand'- they simply go where their customers want to go, where the best money opportunities are. This is the reason why changing ship deployment became a routine tactic these days. 20 years ago, it was not typical at all for cruise shipping companies to move around vessels so much. Back then, itineraries were planned like 2 years in advance, and no one ever thought about changing them.
The Caribbean market in 2015 set new records – 7% growth (over 2014) or 28,7 million visiting cruise ship passengers. The amount of money spent in the region was over USD 30 billion, which is another increase (4,2% over the USD 28,8 billion in 2014). The expected increase in cruise passengers for 2016 is about 4,5 – 5,5%.
Cruises to Cuba
Cuba as cruise destination is now open for USA travelers. Cuba promises something new, something special, something more pristine, something previously off limits. Fact is, that many people do not travel by cruise ship until they have a good reason besides the voyage itself. So along with the specially themed cruises and group travel deals, Cuba is one of the good reasons to book a ship travel vacation.
European cruise market
According to official 2015-2016 statistics, the MSC cruise line company dominates the Europe's cruising market with an estimated capacity of nearly 1,1 mill passengers. The second largest cruise line in Europe is Costa Cruises (estimated capacity of 912,500 passengers). Next in line are the German line AIDA Cruises (estimated 612,000 pax) Royal Caribbean (estimated 422,400 pax), NCL Norwegian (estimated 314,200 pax), P&O UK (estimated 276,000 pax), the German line TUI Cruises (estimated 241,500 pax). The last among the "biggest players" in Europe is Celebrity Cruises with estimated 241,500 passengers.
MSC Crociere line's most capacity is in the region of Mediterranean Sea. The AIDA Kreuzfahrten line is at leading position in North Europe and the Canaries.
Compared to previous years, Royal Caribbean International reduced its fleet in the Mediterranean from 526,000 pax (2012) to 301,000 pax (2015). RCI maintains ~90,000 pax marker share in North Europe.
Costa Crociere started moving more and more ships on the Asian market. This tendency will possibly increase the MSC dominance in Europe.
In 2015, Europe accounted for 5,2 million passengers (4,2% increase over 2014). Of these passengers, 1,1 million were from the UK. The UK (Europe's dominant cruise market) recorded in 2015 an increase of 10,4%. Passengers from Germany recorded a rise of 11,5%.
In 2015, over 19,7 million passengers visited Western Mediterranean ports, over 4,5 million Adriatic Sea ports, over 3 million Eastern Mediterranean ports, around 69000 Black Sea ports. The market's combined share of France, Spain, Italy, and Greece is nearly 80% of the passenger shipping traffic. The region's peak season is May through October (Oct being the busiest month). Mediterranean's leading ports are Venice, Barcelona, Civitavecchia-Rome and Savona.
In 2016, Germany was conformed as the Europe's largest and the world's second cruise market – following only the USA. The expected number of German cruise passengers for 2016 is almost 2 million.
In 2016-2017, MSC had 52,8% fleet capacity in Europe (9,9% decrease over 2015).
In 2016-2017, Costa had 46% fleet capacity in Europe (11,5% decrease).
In 2016-2017, P&O UK had 67,7% fleet capacity in Europe (1,9% decrease).
In 2016-2017, AIDA had 61,4% fleet capacity in Europe (1,2% increase).
Of all 50 new ships scheduled for delivery in 2016-2019, 48 were constructed at European shipbuilding yards.
According to an official 2016 statistical data, the European market in passenger numbers looked like this:
Germany (2,02 million) – 11,3% growth over 2015
UK-Ireland (1,9 million) – 5,6% growth over 2015
Italy (0,751 million) – 7% fall over 2015
France (0,5 million)
Spain and Belgium (growth of 4% each)
European cruise itineraries in 2016 included 4,45 million 'overnights (4.825 million in 2015) and had avrg cruise length 7,8 days.
UK cruise market
In 2016 CLIA reported the UK cruise industry worth GBP 3,26 billion per year to the British economy. This includes goods and services purchased by passengers and the cruise lines, as well as employees salaries. The record growth over 2015 is around 3,3%.
The industry's economic output in Europe was GBP 40,95 billion (2015), or 2% up over 2014. Direct expenditures generated were GBP 16,89 billion (compared to the 2014's GBP 16,6 billion).
The UK cruising industry's employment grew by 4,1% (73,919 jobs), accounting for some 20% of the Europe's market share. Of those, direct cruise line employment was 16,397 (GBP 605 million impact).
Across Europe were created around 10,000 new cruise ship businesses related jobs. These European workers generated (in wages and other benefits) around GBP 11,05 billion.
Southampton port maintains its number one home-port position in Northern Europe, handling in 2015 around 1,75 million passengers.
Statistics show that over 1 million passengers visited an UK port during a cruise. This is double in comparison to 2010.
Cruise Market Statistics
Cruise industry revenue worldwide

2008 – 27,56 bn
2009 – 24,93 bn
2010 – 26,85 bn
2011 – 29,4 bn
2012 – 34,54 bn
2013 – 36,27 bn
2014 – 37,1 bn
2015 – 39,6 bn

Number of passengers carried in Europe
Asia cruise passengers

4 out of 10 are aged 40-.
9 out of 10 cruise within Asia.
They prefer short cruises: in 2014, 48% of them booked 4 to 6-night sailings, 38% booked 2-3-night cruises, 12% booked 7 to 13 night sailings.
Most of them are multi-generation families, like to do onboard high-end shopping and the regional cuisine.

Avrg revenue PP worldwide

The number of cruising people worldwide has increased from 15,62 mill (2007) to 21,12 mill (2013). The expected number for 2018 is 24+ mill.
In 2014, every cruise passenger brought ~USD 2,123 in revenue to the global industry.
The largest proportion of passengers is for the North American market.
The largest is the North American market's share of the global industry USD 21+ bill.
The statistic shows an avrg of USD 184 profit made per cruise passenger worldwide in 2014.

World's largest cruise ships weight (GT-gross tonnage)

Allure/Oasis of the Seas (2010 / 2009) – 225,280
Quantum of the Seas (2014) – 167,800
MSC Vista project (Meraviglia 2017 / 2019 / 2020) – 167,600
Norwegian TBA1 / TBA 2 (2018 / 2019) – 164,000
Norwegian Escape/Bliss (2015 / 2017) – 163,000
Norwegian Epic (2009) – 155,870
Freedom/Liberty/Independence of the Seas (2006 / 2007 / 2008) – 154,400
MSC Seaside project (Seaside 2017 / 2018 / 2021) – 154,000
RMS Queen Mary 2 (2004) – 148,530
Norwegian Breakaway/Getaway (2013 / 2014) – 146,600
Royal/Regal Princess (2013 / 2014) – 142,230
MSC Divina/Preziosa (2012 / 2013) – 139,400
North American Cruise Market
In 2013, the North American cruising industry contributed USD 20+ billion directly to the US economy.
~148,000 people are currently employed by North American lines, and receive USD 6,6+ bn in wages.
The market is set to expand with 20+ new ships with operations in North America planned for the 2014-2017 period.
The 2007-2013 increase in available bed days is from 84,8 mill to 123,2 mill.
2013 statistic shows 46,7% of the travel agents stated their luxury cruise deals bookings had increased over the 2012.
A 2015 survey shows that 57,6% of the respondents had experienced cruise disruption due to itinerary changes, and 6,7% had experienced disruption due to quarantine.
Expenditure of the industry in the USA

2006 – 16,37 bn
2007 – 17,37 bn
2008 – 17,8 bn
2009 – 15,98 bn
2010 – 16,82 bn
2011 – 17,59 bn
2012 – 18,29 bn
2013 – 18,3 bn
2014 – 18,72 bn

Market volume of the industry in North America (revenue in USD)

2013 – 17,6 bn
2014 – 21,2 bn

Number of passengers carried
Number of embarkations from USA ports

2007 – 9,18 mill
2008 – 8,96 mill
2009 – 8,9 mill
2010 – 9,69 mill
2011 – 9,84 mill
2012 – 10,1 mill
2013 – 9,96 mill
2014 – 10,09 mill

Number of cruise ships operating the market in North America

2007 – 159
2008 – 161
2009 – 167
2010 – 169
2011 – 173
2012 – 177
2013 – 178
2014 – 185
Asian cruise market
Asia's cruise industry is booming, and with China dominating the local market there is no surprise the world's major cruise lines decide to reposition ships for year-round operations there. According to the latest reports, China makes up almost 1/2 of the entire Asian cruising market.
Typically, Asians take shorter vacations in comparison to North Americans. Other statistics show that nearly 1/2 of all Asian cruise passengers are younger than 40. Asian cruise shipping lines are currently adapting by primarily offering sailings shorter than a week. From 2012 to 2014, the Asian market has nearly doubled, with plenty of room for further growth. 2015 statistics show that 1/12 of the China's population traveled in 2014, with less than 1% of those traveled by cruise ship.
From March 2015, Chinese cruise passengers travelling to Japan enjoy visa-free entry. The list of operators benefiting from the new agreement includes Carnival Corp, RCCL/Royal Caribbean, Oceania Cruises, SkySea Cruises, Bohai Ferry, HNA. Passengers leaving from China can now do cruise bookings only 3 days out. In comparison, Japan visa approval requires ~7 working days and lots of documents. The Chinese cruising passenger market in 2015 will account for 1+ mill – for the first time ever.
Visa-free entry in South Korea is norm since 2013 for all the major operators on the Asian market. The Korea and Japan visa-free cruise travel is a strong stimulant, since ~90% of all China homeported cruise itineraries visiting Japan and South Korea will be visa free.
Asia cruise market trends 2017
According to the Asian market's 2015 reports, major line companies have built up capacity in the region. The biggest player (for now) is Royal Caribbean. The RCCL company's Asia cruise market share growth is 50%. Next are the budget lines Costa (35% up in 2015) and Princess (15% up in 2015). The German line AIDA Cruises doubled its Asian market capacity in 2015, able to carry 20,000+ passengers there.
The CLIA Asia's latest report shows that for the period 2012-2014, the Asian cruise industry has undergone an exponential 34% growth in all aspects. The Asian trend features a substantial annual growth in ships number, itineraries and passengers. In 2014, Asia cruise lines hosted ~1,4 mill Asians. The global cruising industry now recognizes Asia as a major market. The Asia's passenger capacity between 2013-2015 increases by 20% annually, with an expected 2015 capacity of almost 2,2 mill cruise passengers.
In 2015, the Asian market was operated by 52 cruise line ships. Of a total of 1065 cruises scheduled, ship calls by country were as follow – Japan (646), Malaysia (580), South Korea (377) and Singapore-Thailand (374 combined).
Carnival Cruise Line and AIDA — both owned by Carnival Corporation — announced that they will have ships in the country by 2017.
By the year 2035, around 4,5 million passengers are expected to cruise through Southeast Asia. This is 10 times the 2016 levels of around 0,5 million. ASEAN ("Association of Southeast Asian Nations) received around 116 million international tourists in 2016. This was a 6,5% increase from 2015. The ASEAN tourism is expecting up to 121 million tourists in 2017, and tourist spending to reach USD 83 billion.
China's cruise market
The number of Chinese cruise passengers in the period 2012-2014 grew 79% per year, with a total of 697,000 pax from mainland China carried in 2014. This is almost the total capacity of the market, since all other markets in Asia combined service 701,000 pax. Statistics show that the largest Asian cruise markets are China, followed by Malaysia, Indonesia and the Philippines, with 4 out of 10 pax aged under 40. Asian passengers prefer to sail close to home, and 9 out of 10 passengers cruise within Asia.
2016-2017 trends suggest an increase in the Asian market's passenger capacity up to around 40% (compared to 2015) with close to 3 million passengers.
The China market's 2016 estimated passenger capacity growth is up to 70%, following the 2015's 60% increase (over 2014). A further increase of over 37% is projected for 2017.
Chinese market's capacity is set to grow by 220% over the period 2016-2020. The expected increase in passengers is from 1,3 million (2015) to 4,1 million (2020). The growth pace is based on known vessel deployments. Those include new ships with scheduled itineraries from home-ports in China, as well as vessel transfers from the markets in North America and Europe.
Carnival Corporation is presented in China by 4 of the company's 10 brands. Costa is in China since 2006, and Princess – since 2014. In 2017, newest cruise ships built for the fleets of AIDA, Carnival and Princess will be deployed to China, including the Majestic Princess built specifically for the Chinese market.
Statistics show that RCi cruises in China are being sold at over 1/3 higher prices compared to the Caribbean. Royal Caribbean invests heavily in people though a collaboration with "Tianjin Marine Talent Institute". This is an RCI-built cruise ship staff training facility for hotel operations related jobs. RCI have been created over 100,000 local jobs in the period 2012-2016 in all major Chinese cruise port cities.
Royal Caribbean Asia – SkySea cruise line
In September 2014, RCCL and Ctrip (Chinese travel agency) established a joint venture named "SkySea Cruises". SkySea starts operations in mid 2015, and targets the Chinese cruise market exclusively. The new line begins with only one vessel – the former Celebrity Century ship, that was sold to Ctrip. Ctrip and Royal Caribbean each own 35% of the SkySea. The balance of 30% is owned by a private equity fund and the line's management.
Royal Caribbean Asia 2016 ships
In 2016, RCCL is repositioning in this region a fleet of 5 big-capacity vessels, including two new Quantum-class ships – Quantum of the Seas (2014) and Ovation of the Seas (2016). The five Royal Caribbean Asia ships in 2016 (Quantum, Ovation, Mariner, Legend and Voyager) will be homeported in 4 Chinese ports – Shanghai, Tianjin/Beijing, Xiamen and Hong Kong. They will operated 3- to 12-night long Asian cruise itineraries to ports in Japan, South Korea, Taiwan, Vietnam.
In addition to sending vessels to the region, the RCCL company is also investing in people on shore. In August 2014, RCI created a curriculum with the Tianjin's Maritime College in order to attract, train and later employ Chinese onboard staff in the fields of culinary, restaurant and hotel services. As of early 2015, the RCI cruise line has hired over 3000 college graduates. RCI is also considering the usage of China's major drydock facilities for the refurbishment of the Legend ship in 2018.
Cruise Passenger Statistics
By 2018, over 24 million cruise passengers will be carried worldwide. Almost 60% of them will be North American, 27% – European.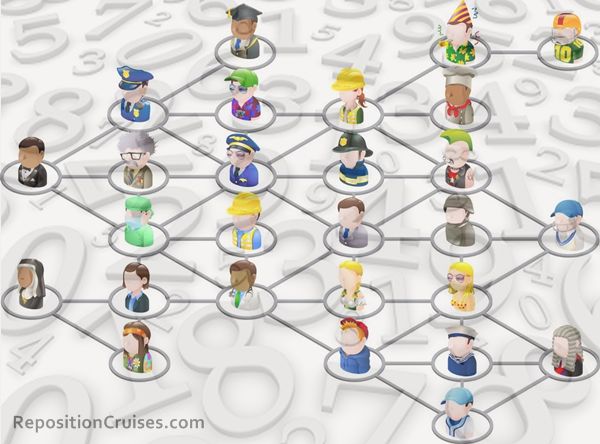 Cruise ship passengers annual number
20,335 mill
Carnival and Royal Caribbean passengers (Disney passengers)
~14 mill (0,5 mill)
Cruise passengers from North America
Note: The US states producing the most passengers are: California, Florida, Texas, New York, Massachusetts, Pennsylvania, Illinois, New Jersey, Georgia and Arizona.
80%
Children 18- year of age cruising with their families
1,6 mill
Number of cruise passenger deaths since 1979 (all causes)
172
Passenger age:

25-29
30-39
40-49
50-59
60+

7%
18%
26%
22%
26%

Avrg cruise passenger age
47
Passenger race (black, white, other)
3-91-6%
Avrg annual household income

$39-50k
$50-60k
$60-75k
$75-100k
$100-200k
$200-300k
$300+k

$97000

9%
10%
16%
19%
39%
7%
1%

College graduated passengers
71%
Married and full time working passengers (retired)
62% (20%)
Male-female (married)
51%-49% (80%)
Passengers age over 25 yo earning US$40,000 and over
44,6%
Cruise passenger percentage of total US population
19,9%
Avrg cruise passenger budget PP per week
$1770
Avrg budget PP per week on a land-based vacation
$1200
Avrg time between trips
~3,5 years
Passengers who think a ship cruise is the best way to sample destinations
80%
Passengers who would return to Caribbean on a land-based vacation
50%
Passenger cruising with the spouse
75%
Passenger cruising with children (18- yo)
25%
Passenger cruising with friends
23%
Passenger cruising with relatives
21%
Cruise passengers' top destination choices:

Caribbean
Alaska
Bahamas
Hawaiian Islands
Europe (Mediterranean, Black Sea)
Bermuda
Europe (Baltic, Norway Fjords, UK, Canaries, Iceland)
Panama Canal
Mexico Riviera

Percentage

45
24
23
15
14
11
9
8
8.
Cruise Trends 2016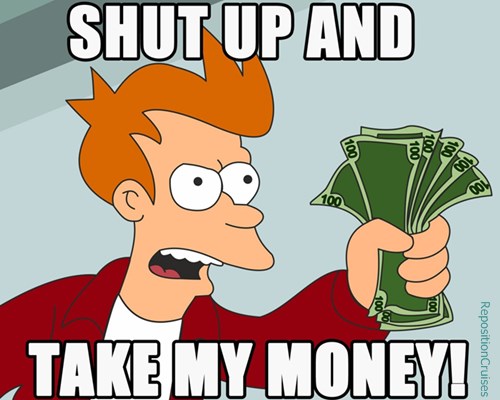 Worldwide cruise industry trends involve lines building more and bigger ships, and, of course, cruise companies taking more of your vacation money. The list of most popular trends includes
more and diverse dining options (alternative restaurants)
cheap tickets prices and not cheap alcohol/drinks
alluring package deals
designer goods shopping
faster Internet (shipwide Wi-Fi, mobile phone apps)
new brand partnerships
a higher demand for solo- and small-ship cruising deals.
Cruise Industry Trends 2016
Why "industry trends" and not simply "cruise trends". Because the industry is all about the big money spend on ship travel vacations, and the trends are the big-time onboard spending to keep going – and faster.
More Specialty Restaurants with Surcharges
20 years ago, there were only main dining rooms as an onboard food option – sitdown dinner, no additional fees. Then the specialty restaurants came along, where a nominal cover charge PP applies. Followed the introduction of the fancy-dinner restaurants with a la carte pricing or per-person fee. The latest cruise trend – they now add surcharges on top of cover charges (supplements for some items). Among the lines that implement this strategy are Holland America (Pinnacle Grill), Royal Caribbean (Chops Grille), NCL Norwegian (Le Bistro).
Main Dining Rooms with Improved Experience
Main Dining Rooms offer the traditional fee-free fare on the ship. Carnival Cruise Lines introduced in 2014 the American Table family-style dining concept with a new menu. Portion sizes are larger, and table mates can share their food. NCL added the Tropicana Room on Norwegian Getaway – the dinner experience with live entertainment. Other lines (like Princess, Hurtigruten, Lindblad) upgraded the onboard cuisine choices with dishes depending on the ship's itinerary (destination's ports of call). This way, they source food (meat, fish, vegetables) from local producers and markets. Royal Caribbean introduced in 2015 the Dynamic Dining on the new RCI ships Anthem and Quantum. It means no traditional dining rooms, instead, passengers can dine when and with whom they want at several preset venues.
Alluringly Cheap Cruise Fares
Mainstream lines (CNL, MSC, Celebrity) begun to break down fares putting out some irresistibly low fares to entice customers on the ship, then start charging for optional "bundle" deals, providing a more personalized vacation experience. The list of such offers includes deals with airfare, hotel inclusive packages, all-inclusive drink packages (some with included Internet), etc.
Cruise Sales Booming
Cruise deals now look appealing the whole year-round. They are no longer reserved for peak season or holiday travel times, with booking windows shifting constantly. The major lines' reactions result in more promotional offers, with more diverse choice of bargain deals depending on value. Cruise passengers now can choose between promotions with bonus amenities or bargain cheap tickets prices.
Mobile Apps, Faster Cruise Ship Internet
In 2014, the cruise market's two biggest companies Carnival Corporation and Royal Caribbean started the battle for the "Internet at Sea" supremacy. RCCL/Royal Caribbean in 2013 partnered with O3b for an array of satellites providing faster Internet speeds on RCCL ships. Then Carnival Corp in 2014 implemented a hybrid system (land-based and satellite Wi-Fi systems) bringing the Internet speed up to 10 times faster compared to the industry's standard. These new systems are currently available only on the companies' newest ships, but the trend is to go fleetwide, and covering all the subsidiary brands.
In the begining of 2014, only few lines offered cruise mobile apps. By the 2014 end, all major companies offered at least such application, with most of them providing mainly pre-cruise research tools. Some apps feature also onship uses – from scheduled daily activities to making reservations (Spa, dinner) to connecting with other passengers. In 2015 this trend continues, with Carnival and Holland America launching their own mobile apps.
More Casual Alternative Restaurants
Alternative restaurants offer multi-course, gourmet meals, with traditionally over-the-top presentation, quality and taste. All that for a flat fee PP. Some of the major lines begun to create more casual specialty dining venues for superb food at a la carte pricing and more casual dress code. Some such venues are even charge-free. The list of the most popular ones includes Royal Caribbean's "Michael's Genuine Pub", the NCL Norwegian's pub "O'Sheehan's Neighborhood Bar & Grill", Princess Cruises' "Alfredo's Pizzeria" (free of charge). The trend is their number to grow, including new bars with gourmet quick bites and brew pubs with draft beers.
Cruise Shopping
Shopping at the onboard retail shops and boutiques goes high-end. This is probably great news for brand goods / expensive shopping afficionados. Now more and more ships have designer brands on sale with duty-free pricing. Celebrity added Cole Haan and Kate Spade to Michael Kors. Princess added Hugo Boss, Trina Turk, Diane von Furstenberg, Fendi, Salvatore Ferragamo. While this is done mostly for the Asian cruise market, the trend is these partnerships to be introduced on ships in other regions too.
Single Cruise Passengers Get More Attention
Solo cruising's top disadvantages are the higher cost (double occupancy rates) and the limited/small number of single cabins (aka Studio staterooms with single occupancy rates). The trend here is more solo cabins to be added – especially on the new vessels. NCL Norwegian, Royal Caribbean, P&O and Fred Olsen lead the way with a good number of single cabins on some of their ships. Holland America launches its newest ship ms Koningsdam (2016) with the line's first-ever single occupancy cabins. NCL expanded the Escape ship's Studio area from 59 rooms (on Breakaway class ships) to 82. The river cruise lines AmaWaterways and Tauck offer solo travel cabins on some of their riverboats. And many of the new river ships are now equipped with single staterooms.
Cruise Line Partnerships
Disney Cruises started this game, but themed children's clubs are not a novelty at sea. However, more and more lines introduce the themed character experience for kids, with more and more such partnerships being announced. In 2015, Carnival added fleet-wide their "Seuss at Sea" program. MSC teamed up with LEGO introducing LEGO-playrooms on the Armonia ship and also on the line's two newbuilds (debuting in 2017). MSC also partnered with Chicco providing baby gear to families. Royal Caribbean partnered with Dreamworks, NCL Norwegian with Nickelodeon.
Small Ship Cruises on the Rise
Windstar Cruises doubled their fleet by buying three of the Seabourn yachts. Compagnie du Ponant lines introduce their newest ship (264-pax capacity) in 2015. Oceania bought the Ocean Princess ship and renamed it ms Sirena (scheduled debut in 2016). Viking Cruises launched the new Viking Ocean brand to offer sea cruise of three identical-design cruise vessel. The trend is, with so many huge ships, the demand for and popularity of small ship cruising vacations to continue to grow.
The cruise market is booming, with more and more opportunities for the largest companies to make huge profits depleting your sweet vacation money fund. Nowadays, ship cruising looks more and more like land-based resort vacations, and the number of small ships in operations continues to decline. Still, cruise travel is the cheapest, most intriguing and most-fun way to spend time and money on seasonal vacation, short-break or during holidays. Enjoy it!