Marella "Repositioning Cruises" 2021-2022 Marella Cruises ships with one-way itineraries (Spring and Fall ship relocation deals) relate to the following categories:
Marella Cruises Repositioning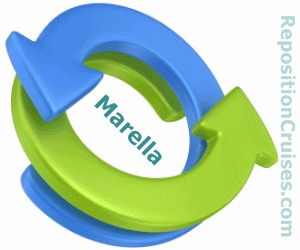 Marella repositioning cruises deals are offered also as low-season discount travel specials, so don't forget to ask your travel agency about any other available discounts.
The list features cheap one-way travel deals to the Caribbean, Asia, and Europe. Also at great rates could be booked discounted deals with "cruise and stay" packages, especially in early Spring and late Fall each year. These discounted offers are the perfect option for budget-minded travelers to enjoy low-priced hotel packages during off-season times, in addition to the cheap Marella cruise ship repositioning deals.
Marella Cruises relocation deals are special offers on mostly Spring and Fall departures with one-way itineraries. Along with the Marella ships Transatlantic crossings between Europe and USA-Caribbean, other discounted offers are the Suez Canal transitions to and from Asian ports (Dubai).
Marella Repositioning Cruise Deals Prices
Our list of Marella repositioning cruise ships with one-way relocation voyages features also suggestive prices Per Person (in EUR, double occupancy rates). These are the cheapest Marella rates on Inside cabins (per person, prices are subject to change). Our information sources are the line's official website Marellacruises.com and the Marella ships itineraries at CruiseMapper.com
Generally, prices on Marella cruise ship reposition specials start at about GBP 100 pp per day (Interior room), but they also can plummet to about GBP 70. Rates include port charges, but not the airfare.
Repositioning Cruises 2021-2022 Marella ships relocation
Follows the complete list of Marella cruise ships' one-way relocation itineraries with ports of call (dates of arrival and departure) and prices PP.
Marella Discovery – Transatlantic
2021 October 26 – 19-day Transatlantic from Palma De Mallorca to Bridgetown, visiting Arrecife (29), Tenerife (30), Praia (Nov 2), Mindelo (3), St Johns (9), Philipsburg (10), Pointe A Pitre (11), Castries (12), St Georges (13) – prices from GBP 2010 pp.
Marella Discovery 2 (former Legend of the Seas) – Asia, Suez Canal
2021 April 28 – 9-day from Limassol to Corfu, visiting Piraeus (Athens, 30), Kusadasi (Ephesus, May 1), Mykonos (2), Katakolon (Olympia, 3), Argostoli (Kefallinia, 4), Brindisi (5), Kotor (6) – prices from GBP 1120 pp.
2021 October 29 – 5-day Corfu to Limassol, visiting Piraeus (Athens, 31), Kusadasi (Ephesus, Nov 1), Marmaris (2) – from GBP 740 pp.
2021 November 10 – 8-day Suez Canal from Limassol to Aqaba, visiting Ashdod (12), Haifa (13), Suez Canal (14&15) – from GBP 1000 pp.
2021 November 19 – 14-day from Aqaba to Colombo, visiting Muscat (25&26), Mumbai (29), Mormugao (Goa, 30) – from GBP 1660 pp.
2021 December 2 – 14-day from Colombo to Laem Chabang (Bangkok), visiting Pulau We (6), Phuket (7), Penang (8), Langkawi (9&10), Penang (11), Klang (Kuala Lumpur, 12), Singapore (13), Ko Samui (15) – prices from GBP 1890 pp.
Marella Explorer (former Mein Schiff 1) – Canary Islands
So far, the ship has no scheduled repositioning cruises and sails in the Canary Islands round-trip from Gran Canaria, Tenerife, and Palma De Mallorca
Marella Explorer 2 (former Mein Schiff 2) – Transatlantic
2021 April 18 – 18-day Transatlantic from Bridgetown to Dubrovnik, visiting Castries (19), Roseau (20), Basseterre (21), St Johns (22), Funchal (29), Gibraltar (May 1), Cartagena (2), Palermo (4) – prices from GBP 1970 pp.
2021 November 4 – 19-day Transatlantic from Naples to Montego Bay, visiting Palma De Mallorca (6), Gibraltar (8), Funchal (10), St Johns (18), Amber Cove (20), Grand Turk (21) – from GBP 1910 pp.
Enjoy your cheap Marella repositioning cruises and happy and safe vacations with Marella Cruises!