We have the list of all Alaska repositioning cruises to and from Seattle WA 2023-2024 Spring and Fall ship relocation specials. We show you here all departures and arrivals of passenger ships offering Seattle repositioning cruise deals on "one-way itinerary" voyages with changing the ship's seasonal destination of operation.
Seattle relocation cruises include deals on ships that arrive to or leave from Seattle WA. The list of itinerary and destination changes associated with these deals includes:
Panama Canal transition cruises on ships departing from Alaska to Florida ports, New Orleans, or to texas (Houston or Galveston) are operated in Fall. The reverse routes are operated in early Spring.
Ships with deals on repositioning cruises from Seattle to Vancouver and the reverse cruise Vancouver to Seattle, operated respectively in Fall and Spring each year.
Transpacific crossings – ASIA and AUSTRALIA (with Hawaii) repositioning cruises from Seattle to Sydney or ports in Japan (Yokohama or Kobe).
Repositioning Cruises to/from Seattle WA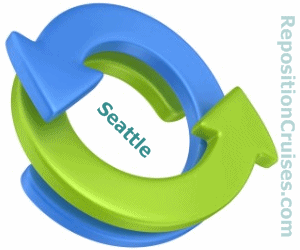 Seattle repositioning cruise deals belong to the special group of Alaskan ships on relocation in Spring and Fall. Most popular are those between Seattle and Vancouver, Canada. They are with the shortest itineraries, which also means cheapest overall cruise prices and some of the cheapest per day rates.
As you will see from the lists below, the short "Alaska ships relocation" deals offer to visit the busiest Alaskan ports of call – Juneau, Skagway, Ketchikan, and the regions of Glacier Bay and Tracy Arm. In British Columbia (Canada) you will stop in its capital city Victoria (on Vancouver Island, about 60 ml / 100 km south of Vancouver BC).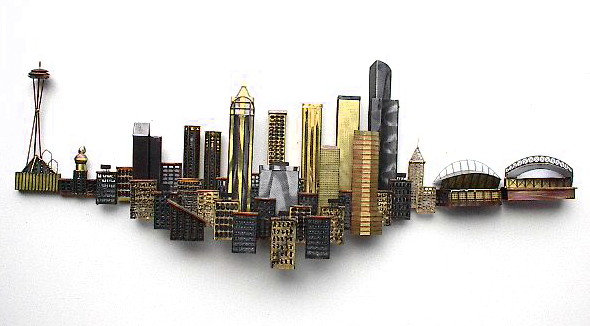 Longer repositioning cruises from Seattle offer transition through Panama Canal. It's a narrow-window at the end-of-Alaskan-season opportunity to embark on a triple-destination cruise travel vacation. You'll enjoy the exciting combination of these three most traveled regions – Alaska, the Panama Canal transition itself and the sunny Caribbean. The same goes in the reverse route during Spring – departing from Caribbean US ports (most departures are from Fort Lauderdale and Miami) to Seattle for the new Alaskan season.
All these deals are on one-way itineraries. The Seattle cruise repositioning presents the perfect chance for budget-minded vacationers to find low-season-cheap bargains. In the group of these deals are the discounted cheap Alaska fly-cruise packages with discounted air on both flights. These deals are usually sold by travel agencies, and rarely by the ship's operator or the cruise company.
Seattle relocation cruises
Since Seattle relocation cruise deals usually offer some hotel stay in the city of Seattle, we offer you here two outbound information links. The first link is to Wikipedia's article about Seattle, the second one is to the official website Seattle.gov. Follow some of the city's most popular statistics:
A major coastal port city in the state of Washington, USA.
Population – 634,535 (~4 million in the whole metropolitan area). This is the largest US city in the largest city in the Pacific Northwest region and the 15th largest metropolitan area in the United States.
The busy Seattle port as a cruise ship schedule is just the tip of the iceberg. This is the 8th largest seaport in the US in terms of cargo ship traffic and container handling.
Seattle architecture marvels and the most famous landmarks. "Space Needle" observation tower (built 1962) is the city's symbol. This building attracts ~2,3 mill visitors a year, with ~20,000 people using its lifts each day. The tower's height is 605 ft (184 m), width 138 ft / 42 m, and weights 9550 t. Its observation deck is located at 520 ft / 160 m and features the rotating restaurant named "SkyCity". The Space Needle's elevators are moving at hat travel at 10 mph (4.5 mps), and it will take you ~40 sec to reach its top.
The city's tallest buildings are: "Smith Tower" (built 2014), "Columbia Center" (built 1985, 284 m / 932 ft), "Washington Mutual Tower" (built 1988, 235 m / 772 ft). Other famous places to visit are "Pike Place Market", "Fremont Troll", "EPM Museum" (founded by Microsoft), "Central Library", "The Seattle Great Wheel" (Pier 57, Elliott Bay, height 175 ft / 53 m).
Repositioning Cruises Seattle 2023-2024 ships relocation schedule

In the table below we list all Alaska cruise ships departing from Seattle WA during the summer of 2023, and 2024. You can compare departure dates and itineraries. For more reposition cruise offers and cruise prices comparison – follow our line-links at page right. We will add more itineraries as soon as the Alaskan cruise lines leaving out of Seattle announce their dates officially.
Ships
cruise lines (links)
to Seattle 2023-2024-2025 Spring
from Seattle 2023-2024 Fall
Carnival Cruise Lines
Carnival Legend
–
–
Celebrity Cruises
Celebrity Edge
2024 May 11 – 6day Vancouver to Seattle
2024 Sept 13 – 7day Seattle to Vancouver
Celebrity Solstice
–
2023 Sept 15 – 7day Seattle to Vancouver
Holland America
Amsterdam
–
–
Eurodam

2024 May 3 – 1day Vancouver to Seattle
2025 May 2 – 1day Vancouver to Seattle

–
Maasdam
–
–
Oosterdam
–
–
Westerdam
2024 Apr 27 – 16day Yokohama to Seattle

2023 Oct 1 – 13day Seattle to Yokohama
2024 Oct 24 – 23day Seattle to Sydney

Zaandam
–
–
NCL Norwegian Cruise Lines
Norwegian Bliss
–
–
Norwegian Jewel
–
2023 Oct 3 – 16day Seattle to Tokyo
Norwegian Pearl
–
–
Norwegian Sun
–
2024 Oct 7 – 16day Seattle to Tokyo
Princess Cruises
Crown Princess
–
2023 Sept 16 – 4day Seattle to Vancouver
Discovery Princess
2024 May 4 – 7day Vancouver to Seattle
2023 Sept 24 – 7day Seattle to Vancouver
Emerald Princess
–
–
Majestic Princess
2024 May 9 – 3day Vancouver to Seattle
2024 Oct 10 – 2day Seattle to Vancouver
Royal Princess
–
2023 Sept 23 – 2day Seattle to Vancouver
Ruby Princess
–
–
Star Princess
–
–
Royal Caribbean
Explorer Of The Seas
–
–
Ovation Of The Seas
2023 May 11 – 8day Vancouver to Seattle
2023 Sept 29 – 7day Seattle to Vancouver
Quantum Of The Seas
2023 May 8 – 7day Vancouver to Seattle
2023 Sept 25 – 7day Seattle to Vancouver
Repositioning cruises from Seattle are a very small set of one-way itinerary deals per year. The reason is the small number of Alaskan cruise ships departing from Seattle WA as compared to those leaving out of Vancouver, Canada.
Now, that you know the Seattle relocation cruise ships and their departure/arrival dates, all you gotta do is book the "right one". We wish you the best of luck with the prices and cabin availability! This is one of the US most prominent cities – and a top choice port for Alaska cruising vacations. Don't miss the one-time-a-year-only chance to embark on a cheap ship relocation vacation!