We list here only one-way ship repositioning Panama Canal cruises 2021 and 2022 schedule of transition itineraries offered in Spring and Fall. You can compare here all Panama Canal cruise ships as destinations, departure ports, and sailing dates. Learn how to discern the regular one-way Panama Canal transition cruises from the authentic, cheap repositioning cruises through Panama Canal operated seasonally with discount cheap deals.
Panama Canal Repositioning Cruises
When talking about repositioning cruises through Panama Canal, the predicament here is that most Panama Canal transition cruises are full transits (crossings with one-way itineraries). Panama Canal cruise ships are usually leaving either from Florida or California ports. Transition sailings usually last for about 2-weeks.
Panama Canal cruise ships relocation
These are two special "Panama Canal ship relocation" hints for you (serving almost like shortcuts): the always funny one is "follow the money", and the not so funny one is "mind the season".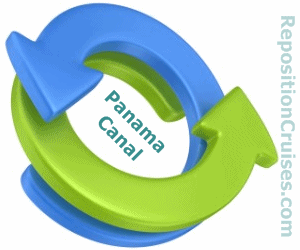 Destination. Panama Canal cruise relocation is very often in the category of long Coast to Coast voyages (Florida-California and California-Florida, and New York to California and California to New York). And some itineraries start in South America to end in Florida, Boston or NYC, New York (and the reverse).
Season. It all happens in Spring (April and May) and Fall (September) when all Panama Canal repositioning ships relocate (to and from) Alaska according to their summer Alaskan season schedule. Repositioning cruises on ships passing through Panama Canal with itineraries to/from South America usually start in some of the Winter months.
As to the money part, you'll know the Panama Canal reposition cruises by their ticket prices. Deals will vary greatly (depending on the line, ship, and cabin category), but always with pleasantly low rates which could be easily defined as "top-luxury inexpensive to really really cheap".
Panama Canal cruise transition – facts and statistics
The total length of the Panama Canal is 77,1 km (48 ml).
Locks size. Panama Canal's lock chambers determine the max size of a ship to be able to pass through. Most cruise ships are built to the max lock size allowed (Panamax ships). Larger size ships belong to the group of Post-Panamax ships. The length of each lock is 320 m (1,050 ft), their walls thickness range from the bottom (15 m / 49 ft) to top (3 m / 9,8 ft).
The longest ship transiting the Panama Canal was a bulk-carrier – length 296,6 m (973 ft), width 32,3 m (106 ft).
Draft restrictions (max 12,6 m / 41,2 ft). Since the draft is determined by the ship's weight, Panamax ships (able to pass through the canal) have cargo weight restrictions to ~52,500 t.
Panama Canal cruise ship transition tolls are based on the ship's size (vessel type and cargo type for freighter ships). Cruise ships through Panama Canal pay rates based on their passenger capacity (number of berths/beds). The current Panama Canal cruise ship fee (for bigger ships) is US$92 for unoccupied and US$115 for occupied beds. Panama Canal cruise ships of less than 30,000 t or less than 33 t per passenger are charged as the same per-ton fees as cargo ships. These tolls are (in USD) $3,90 per ton (first 10000 t), US$3,19 pt (second 10000 t), US$3,82 pt (third 10000 t) and US$3,76 pt thereafter.
The most expensive Panama Canal cruise ship transition toll was charged to the NCL Pearl cruise ship on its westbound repositioning cruise in Spring 2010 (passing on April 14th). NCL Pearl paid US$375,600 (for comparison, the average fee is ~US$55,000).
There are also priority passing fees – the highest was paid in 2006 (US$220,300) by a tanker ship bypassing 90 other ships waiting to move through the canal. The cargo ship avoided a 7-days delay by paying the regular toll 16 times (the normal fee was only US$13,400).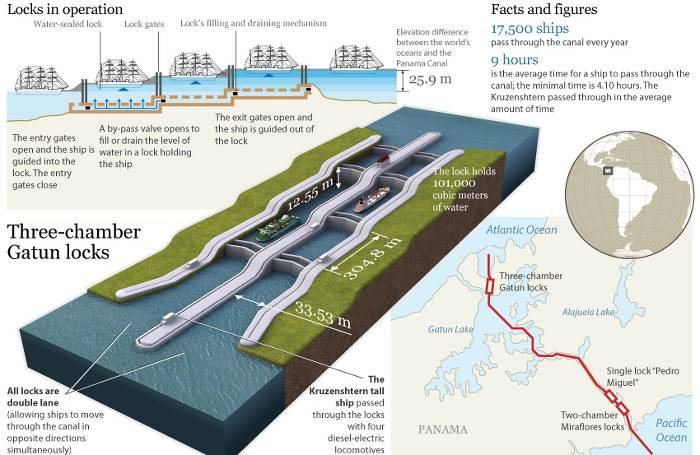 These are two Panama Canal related links. For all things Panama-related – the Republic of Panama official website VisitPanama.com. For all history-technology-facts stuff – see this Wikipedia link. For details on itinerary and to compare prices (indicative rates) follow the line-links from the table below.
Repositioning Panama Canal cruises 2021-2022 schedule
Cruise lines / ships
Spring 2021-2022 Summer
Fall 2021-2022 Winter
Carnival Cruise Lines
Carnival Freedom
2021 Apr 10 – 17day Galveston TX to Seattle WA

2022 Apr 17 – 16day Miami FL to Seattle WA

2021 Sept 22 – 17day Seattle to Fort Lauderdale

2022 Sept 20 – 16day Seattle WA to Miami FL

Carnival Legend
–
–
Carnival Miracle
–
–
Carnival Pride
–
2021 Oct 31 – 14day Baltimore to Tampa FL
Carnival Radiance
2021 May 2 – 12day Port Canaveral to Galveston
–
Carnival Sunrise
–
–
Celebrity Cruises
Celebrity Millennium
2022 Apr 18 – 15day Fort Lauderdale to San Diego
2021 Sept 26 – 16day Los Angeles CA to Fort Lauderdale FL
Cunard Line
Queen Elizabeth
2022 Jul 26 – 14day Los Angeles to Fort Lauderdale
–
Queen Victoria
2022 Jan 21 – 16day Fort Lauderdale to San Francisco
Disney Cruise Lines
Disney Wonder
–
–
Holland America Line
MS Amsterdam
–
–
Eurodam
2022 Apr 10 – 15day Fort Lauderdale to San Diego
–
Nieuw Amsterdam
2022 Apr 9 – 17day Fort Lauderdale to San Diego
2021 Oct 3 – 22day Vancouver to Fort Lauderdale FL

2021 Oct 8 – 17day San Diego to Fort Lauderdale FL

Oosterdam
–
–
Rotterdam
–
Volendam
2021 Apr 2 – 19day Fort Lauderdale to San Diego
–
Westerdam
2022 Mar 18 – 17day San Antonio to Fort Lauderdale
2021 Nov 13 – 17day Fort Lauderdale to San Antonio
Zaandam
–
–
NCL Norwegian Cruise Lines
Norwegian Bliss
–
–
Norwegian Dawn
–
–
Norwegian Encore
2021 Apr 10 – 15day Miami to Los Angeles

2022 Apr 17 – 15day Miami FL to Los Angeles CA

2023 Apr 16 – 15day Miami FL to Los Angeles CA

2021 Oct 28 – 17day San Francisco CA to Miami FL

2022 Oct 23 – 21day Seattle WA to Miami FL

Norwegian Jewel
–
2021 Oct 6 – 15day Los Angeles to Miami

2021 Nov 29 – 15day Miami to San Diego

Norwegian Joy
–
2022 Dec 4 – 14day Port Canaveral to Los Angeles
Norwegian Pearl
–
–
Norwegian Sky
–
2021 Oct 24 – 9day Miami to Panama City

2021 Dec 8 – 9day Panama City to Miami

Norwegian Star
–
–
Norwegian Sun
–
–
P&O Cruises (UK, Australia)
Arcadia
–
–
Princess Cruises
Coral Princess
–
–
Emerald Princess
–
–
Island Princess
2022 Jan 5 – 14day Fort Lauderdale to Los Angeles

2022 Mar 13 – 59day Dubai to Los Angeles

–
Pacific Princess
–
–
Sea Princess
–
–
Royal Caribbean International
Serenade Of The Seas
–
–

Small and Luxury cruise lines ship relocation

(Cruise And Maritime Voyages / CMV) Magellan
–
–
(Phoenix Reisen) Amadea
–
–

(Phoenix Reisen) Albatros
–
–
(Phoenix Reisen) Amera / formerly MS Prinsendam
–
–
Azamara Journey
–
–
Azamara Pursuit
–
–
Oceania Insignia
–
–
Oceania Marina
–
2021 Dec 5 – 14day Miami to Callao (Lima)
Oceania Regatta
–
–
Seabourn Odyssey
2021 Apr 24 – 21day Miami to Los Angeles
2021 Oct 8 – 21day Los Angeles to Miami
Seabourn Quest
–
–
Seabourn Sojourn
–
2021 Dec 21 – 21day Miami to Los Angeles
Silver Whisper
–
–
Viking Sun
–
–
Know that with time prices on Panama Canal repositioning cruise deals usually go down with time. Still, the economic law of "Supply And Demand" will always rule – cruise lines will price their deals and cabin categories accordingly. So good luck with those, and happy Panama Canal "reposition" vacations!